To say that I get super excited about Spring is a gross understatement! And the only thing I love more than getting outside and playing in the Spring time is decorating for it. Here are a few very simple ways to welcome Spring into your own home via home decor. Enjoy!
1. Bring on the plants! I can't really get enough plants! In fact, I have plans today to buy some more plants. I plan to add a couple of lavender plants to either side of my fireplace this Spring. I die over the scent of lavender. In this photo you can see my gardenia bush on the dining table, a vase of roses... and don't hate me but I can't remember the name of the plant in the corner. Ha!
So get over to Trader Joe's, or wherever and bring some living greenery inside!
2. Decorate with pattern! I just brought my colorful throw pillows out of storage the other day and I couldn't be happier. You know when you store something for a few months and when you get it out again it's like you just went on an awesome shopping spree and you're super happy about it? Yeah, me too.
Don't be afraid to add a little color and pattern into your life. If you keep the main decor basic and neutral, it's simple to add a special pillow or two that makes you happy!
Shop my beloved blue Capri Blue Volcano Candle below... it smells like Spring!!!
I can't find this exact pillow anymore, but this one is from the same place and is very similar (love it). The 18x18 size is pictured above.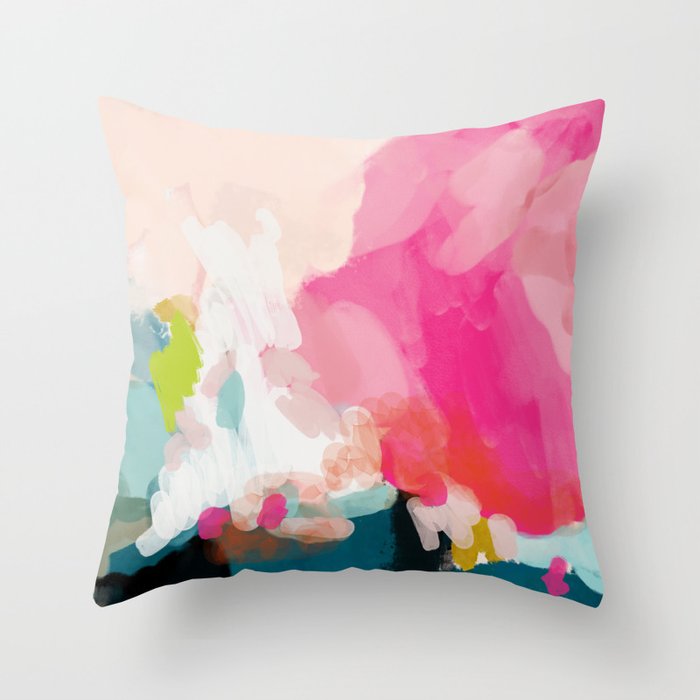 3. Faux flowers never hurt anyone. I remember watching Oprah, like 20 years ago, I think she was talking to Nate Burkus and they were going on and on about how... one must never display fake flowers in one's home. Well, that's just great if your Oprah or Nate, but I got stuff to do. I am all about a pretty vase of faux buds. I try to have fresh ones as often as possible, which isn't that often.
PS you can find this Tropical Leaf Throw Pillow here.
Here are some faux flowers I think are just perfectly pretty. Sorry Oprah. Sorry Nate. #sorrynotsorry
These flowers range from $20-$325 :)
4. Another one of my favorite ways to add texture, color, and a little sparkle is with fantastic rocks. This one sits on my coffee table and makes me happy on the regular. Lots of people believe in the healing power of rocks... and I won't argue with them. At the very least they are super easy on the eyes.
Recently I've noticed that TJ Maxx or Home Goods has a pretty good selection of these bad boys.
5. Add color. OK, I admit it. I'm obsessed with pink lately. I can't help myself. I swear, everything pink it just cute. Speaking of cute, check out my little pup relaxing by the sofa. Swoon. Bringing in some Spring-like colors, like pastels can really cheer your mood and get your ready for Spring. If you aren't as committed as I am think you'll pass on the pastel furniture, try a throw, or a pillow. Leave the tags on and take it back if you don't like it. Who knows, you just might discover a new favorite hue.
Here are some adorable pastel pieces I have had my eye on. ;)
Until next time, XOXO
PS this post may contain affiliate links, all opinions are my own.