I built this frame as part of the room I decorated for the
soon-to-be-released book, Room Recipes
.
This project makes me a little giddy... I loved how it turned out. And I'm excited to show you
how to build a custom frame
! I hope you all enjoy my
DIY
and
Home Decorating
posts as much as I do. You and I both know that frames are expensive but I built this one for about 20 bucks. I love how it
adds a pop of color to my room
. Oh, and if you like the stenciled wall, here's
how to stencil a wall quick and easy
.
Get ready, here goes.
First thing I did was make the cuts. Now, this photo is a little crazy. I would never put my arm in front of the blade while cutting! This was for the photo op only. Safety first!
I put it together on the floor around my photo (which was already posted on art board) to make sure the fit was good.
I then applied some Liquid Nails
I was dreaming when I thought that might work. Ha. I ended up adding these brackets. The screws that came with the brackets were too long and would have gone all the way through my moulding. I bought shorter screws. Just FYI :)
Then I used spackle to fill in the gaps. Why not caulk? You could use caulk but I like spackle because I can sand it. Personal preference. I won't be upset if you use caulk... much.
I just use my fingers real casual-like.
Then, I sanded. I like sanding sponges so I can get all up in the corners. Oh yeah.
Now for the paint. I mixed my own chalk paint by simply adding some Plaster of Paris (mixed with a little water) to my paint. It was all very scientific.
To mount it on the wall, I mounted the frame (sans photo) with some 3M Command Strips first. I then simply did the same thing with the photo. I used 4 pairs of Command Strips in all. As a side note, my husband feels that I have an unhealthy obsession with said Command Strips. (They are just so easy.)
You might notice my new lamp.
Target special. Loving.
So what do you think? Leave a comment and let me know or show some love by pinning it.
I hope you try this fun project!
Check out these related projects:
linked up to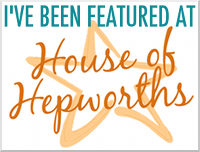 The Shabby Creek Cottage